Bed Bug Control Measures
Affected areas should be completely treated with recommended pesticides. The bug killers used for exterminating termites or other insects will not be effective with bed bugs.
Vacuum bedding and rugs thoroughly and once done replace and remove the vacuum bag. If the infestation is very serious consider discarding the infected mattresses.
Separate lodging/ bedding has to be arranged until the problem is resolved.
The best method to prevent re-occurrence of these bed bugs is to wash and dry all drapes and beddings at a temperature of 120F.
Sprinkle diatomaceous or spray Pure Clean, Sleep Tight and Bug Patrol on the infected place as it could control further spread of bugs.
Do bed bugs transmit diseases?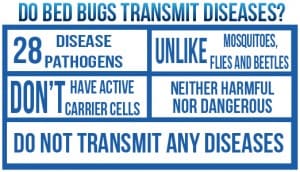 Over 28 disease pathogens have been found in bed bugs. But unlike mosquitoes, flies and beetles they don't have active carrier cells for transmitting any of these pathogens to humans. The information and facts as far revealed with infestation of bed bugs infer neither harmful nor dangerous because of this reason. So it is definite that bed bugs do not transmit any diseases.
How do I keep bed bugs out of my home?
Bed bugs are typical migrants. They keep spreading through rugs, mattresses, sheets and bedding usually when returning home after having a long stay in any outside places.  When you travel, make sure to inspect the hotel /room as you arrive- lift off the beddings, mattresses and check for the signs of bed bug presence. Consider changing rooms/ hotels if presence is felt.  Don't take home discarded bed frames, mattresses or box springs. Wash clothing and thoroughly vacuum luggage immediately after trips. Inspect and clean all the belongings before bringing it into your home.
Preventing bed bugs from spreading
Beddings need to be cleaned, dried and inspected regularly. Bed bugs cannot show tolerance to heat, so it is recommended to dry on a high heat.  Keep bedding from touching the floor or wall. Mattresses, furniture, old books and box springs need to be covered with Vinyl covers as this could prevent the invasion of bugs in your home.  Vacuum carpet, fabric drapes and furniture once or twice in a week.  Seal cracks, holes and crevices along base boards and areas where pipes run through wall.
Most in Metro Vancouver who try controlling bed bugs themselves don't succeed in total eradication, so it's better to call a professional bed bug exterminator in Vancouver, Surrey, Delta, White Rock, or Langley – who has had 100% success rate in bed bug removal.
How do you know if you have bed bugs?