Commercial Pest Management
In our Commercial Pest Control program, we not only catch pest activity in the earliest stages when our treatment is most effective, but it also provides historical records that allow us to anticipate seasonal pest pressures and prepare for them before they can occur again.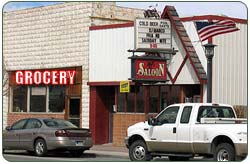 Commercial businesses, especially those in the food service industry, are particularly prone to pest problems. The pest pressures in a restaurant, bakery, deli and food market are already high, with their intense kitchen usage and constant pedestrian traffic.  They don't need rodent and ant problems in addition to other issues.
Hotels, motels, hostels, and property rentals are also businesses you don't want pest embarassment.  Commercial bed bug control is often needed for these sites, as travelers may bring bed bugs with them in suitcases.
Many businesses have warehouses or storage facilities that need pest control programs.
We specialize in customizing a Pest Management Program geared to the specific needs of your business. We will thoroughly inspect and analyze your facility, and indicate the conditions often overlooked that can lead to unacceptable levels of pest activity. Sanitation practices, potential harborage sites, and pest entry points are reviewed and corrected.
Typical pests removed and exterminated from commercial buildings:
Rodents, rats, mice
Ants
Cockroaches
Silverfish
Wasps and Wasp Nest Removal
Bed Bugs
When your business is at risk from pest problem, you need a partner who understands your business and that's Avon Pest Control.
Call us for an inspection at 604-805-0278 to learn about Vancouver commercial pest control services, and all Metro Vancouver – New Westminster, Burnaby, Coquitlam, Richmond, etc.
Call 604-239-1615 for commercial pest control in Delta, Surrey, White Rock or Langley.