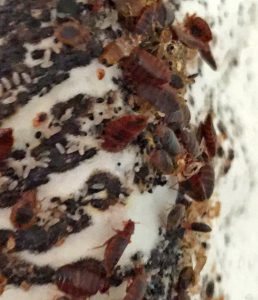 Are you concerned about getting rid of bed bugs?
There are few things worse than realizing that you have bed bugs in your metro Vancouver home or commercial property. You may have painful marks on your skin, but that's almost not as bad as the fact that you have unwelcome creatures living at your property. It's enough to make anyone consider moving home. Fortunately, in this day and age, such drastic actions aren't necessary.  When it comes to bed bug treatment in Vancouver area, there is a range of options available which will wave goodbye to the insects once and for all. If you suspect that you have a bed bug problem and you're struggling to sleep because of it, then take a read below, where we outline some of the most effective treatments — and also some treatments that have been shown to be largely ineffective. It won't be a problem that you have for much longer. 
Chemical treatment
There is no shortage of sprays available for purchase that'll help to kill bed bugs. But not all of the sprays have the same chemicals, so there is a range in effectiveness. Some of the more common chemical ingredients you'll find are DDT, bug bombs, and pyre-thrum. Perhaps the most common is the first in the list, DDT. This chemical attaches to the sodium pore of cells, and causes inflammation by flooding the cells with sodium, ultimately resulting in damage to the nervous system. As you might imagine from such an advanced chemical, this does work when it comes to killing bed bugs; it is effective. However, there are downsides: it can harm the environment and surrounding areas. There are other problems with chemical sprays, too. 
For instance, bed bugs don't just sit there, waiting to die. When they sense something is wrong — such as a deadly chemical coming their way — they often run and hide in the dark corners of the home, making them even more difficult to get rid of. There's also some evidence to show that bugs are becoming resistant to sprays, and they're not always effective at killing bug eggs. So while sprays might get rid of some of the problem, they're unlikely to save the issue goodbye for good on it's own.
Here are 5 facts to know before considering bed bug spray.
The need based chemical option is the long lasting & more effective one. Avon Pest Control uses very specific chemicals approved & labelled by Health Canada & very safe to use indoors.
Steam treatment
Sometimes referred to as thermacure, steam treatment for bed bugs is designed to stop bed bugs and prevent them from returning. Because of the complex nature of this treatment, it has to be carried out by a professional company — there is no option to buy the kit in a store and do it yourself. During the process, the home will be stranded with ducts, and then pumped with hot air that reaches 113 degrees Fahrenheit. 
Pesticide treatment
There are more than three hundred pesticides that can be used to treat bed bugs, according to the Environmental Protection Agency. These fall into seven different chemical classes of pesticides: pyrethrins, pyrethroids, desiccants, biochemicals, pyrroles, neonicotinoids, and insect growth regulator. While they can be used to treat bed bugs, they are far from the most effective. This is because, like sprays, bugs usually don't wait around for their life to end. What happens instead is that they scurry off to other areas of the home, often in different directions, so another treatment type is needed.
Health Canada Warns Canadians Not to Use Unregistered Bedbug Control Products
Heat treatment for bed bugs
Perhaps one of the most effective, not to mention safe bed bug treatment is heat treatment. This has been shown to be hugely effective for the extermination of bed bugs, because bugs generally can't survive in hot temperatures — around F80 degrees. Though this is the temperature that scientists believe, heat treatment takes things one step further: professionals apply heat of about F125 – 135 degrees to the infested area, using specialized heating equipment. During the process all bed bugs, no matter how old they are (including eggs) will be killed. There will be nowhere for them to run to. Because of the sheer effectiveness of this method, it is a popular bed bug treatment in Vancouver. 
Heat & Freezing are not practically feasible in residential situations, because they are very expensive and laborious – so these methods are mainly used for commercial bed bug control.
Freezing treatment
Another popular option is the freezing treatment method. The agent that does most of the work during this process is cryonite. Just as the heat treatment heats the bugs to death, the freezing treatment freezes them to death. And it does get cold: sprayed on the infested area is an extreme coolant that has a temperature of minus 110 degrees. Plus points for this method of treatment include its effectiveness – the pests are all frozen to death — and the fact it's good for the environment.
Understanding Ineffective Treatments
While there are plenty of treatment methods on the market, it's important to remember that not all of them are created equal, or anywhere close to it, for that matter. Some people, when they're faced with a bed bug situation, opt for the easiest, less expensive, or quickest way to get rid of them — but if it's ineffective, then all they're doing is essentially wasting their time. Before you agree to carry out one particular type of treatment, you'll want to investigate just how severe your problem is, and whether the treatment you're going to use will wave goodbye to the issue. It might be that you need to use additional treatments in the future if you don't.  Just contact our bed bug specialist for questions on what kind of treatment you need in your situation.
The Need For Pro Treatments
When it comes to bed bugs, we're not just talking about insects — we're also talking about your property, which has temporarily become their home too. As such, it's important that you're taking the time to consider how whichever treatment you choose is going to affect your house. It shouldn't just be effective — though that is the main goal — but also clean, and safe. It's best to work with professionals that are reliable and trustworthy, in order to ensure that the problem is solved yet, additionally, your home is left in tip-top condition afterward.  
Any question?  JUST CALL US at the number below – we'll help you make just the right bed bug removal method for your situation – whether residential or commercial.
For bed bug freezing, chemical, and/or bed bug heat treatment in Vancouver, Surrey, and all Lower Mainland, contact us in the form on the right or call us.  We have a 5-month guarantee and 100% success rate.
How do you know if you have bed bugs?
Bed Bug Control Measures
Bed Bug Bite Symptoms
Bed Bugs Pest Control
Bed Bugs Inspection
Bed Bugs FAQ
Average Bed Bug Removal Cost?