Having flea issues at home? Contact Avonpestcontrol.ca immediately
Flea infestation is a very common problem that almost affects every household you are bound to come across, especially if there are pets in the home. However, you cannot tend to take it lightly and ignore the necessity. It is quite imperative for you to take actions as soon as you come to know about the infestation. Awareness is very important and after spending so much for your home, it is necessary that you maintain a healthy environment for making your home harmonious for living. You have two options in this context. You can tend to take the burden on your own shoulders and take remedial steps for it or you could wiser and opt for professional pest control services.
Taking the burden on your own shoulders is not the best of decision making. Firstly you have no clue whatsoever regarding the infestation rate. Secondly, even if the infestation is small by approximate figures and as per your judgments, these remedial steps and tips provided across various websites for getting rid of fleas serve to be as an immediate solution. There is no guarantee or basis that fleas can return back in huge numbers to infest your homes. To be on the safer side, as you lack the necessary expertise, it would be wiser on your part to call a professional fleas exterminators.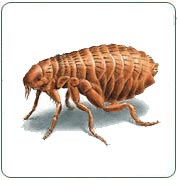 There are many such pest control services providing companies available in the market all around the globe. All you need to do is pick up your phone and make the call. However, it is important on your part to perform thorough research and identify professionals in order to ensure high quality pest control services. Many of these companies tend to lure you into their traps by offering the same services at cheaper price. Remember never to compromise over quality services.
Flea problems could be quite severe depending upon the infestation numbers and only a professional expert who shares immense knowledge of the industry could help you find permanent solution for your flea related problems. Getting rid of fleas is a very tedious but yet important task and it is no joke of any sort.
Fleas pose a serious threat through health hazards and they can contaminate and spread quite rapidly. Their saliva causes FAD which is an abbreviation of Flea Allergy Dermatitis. The symptoms of such a disease include excessive scratching, sores and scabs, rashes and many more. However, above mentioned issues are common symptoms. As always "Prevention is better than cure". Fleas are hardy parasites that suck on your lives. As a matter of fact, they can go on survival without food for even 100 days. And as mentioned earlier, they spread quite easily affecting your neighbourhood. If you don't react to these issues, soon enough your neighborhood is bound to become an epidemic area.
Avon Pest Control Company is a highly experienced and professional company that handles all kinds of pest issues. They are the experts when it comes to handling fleas. They come up with comprehensive and versatile solution for your pest problems and they are highly customer oriented as well. You are bound to find the best deal for your pest issues for a very nominal and affordable price.
Reliability and Versatility are two features that predominantly define the company. You can trust them for permanent solutions when it comes to flea extermination. Visit avonpestcontrol.ca for further details or call us at 604-805-0278 immediately!!!