Ready for Summer Pests in Metro Vancouver?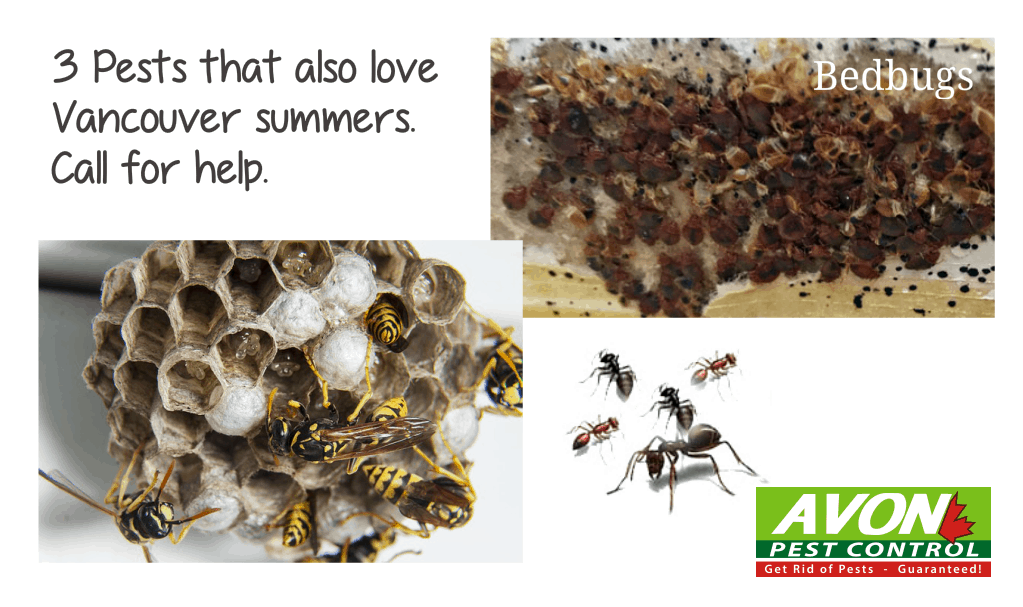 Summer is here – so is an increase of wasps, ants, and bed bugs.
Summer is one of the most popular seasons in greater Vancouver after many rainy months. Who else loves the warmth? Insects – some just annoying, like flies, mosquitoes, or roaches – but others can actually cause structural damage to buildings or health to your bodies.
Here are notes from an interview with Dr. Garry Mann, a Surrey exterminator of 18+ years' experience and owner of licensed, insured & bonded Avon Pest Control that serves all the Lower Mainland.  Dr. Mann has a PHD in Entomology and is a BC registered professional biologist (which makes him a bug expert).
Q: In the summer, what pest control request do you get the most in greater Vancouver?
A: There are 3 that are especially common.  Carpenter Ants, Wasps, and Bedbugs.
Q: What's so bad about ants?  Can't people just use some do-it-yourself spray at home?
A: "There are 6-7 species of ants in BC, and each may require their own special method of removal and prevention. Carpenter Ants require experts to manage – and they are especially bad as they can damage the structure of your building by eating away at wood and other materials."  Some ants you can control yourself, and prevent by not leaving food or moisture around, but you wouldn't want dangerous chemicals in your kitchen.  If ants have become a problem at home or business, it doesn't hurt to just pick up and phone and ask a professional."
Q:  You said wasps are a common problem?
A: "Yes, wasps nest and reproduce in Spring and are out in full force in the summer.  Wasps and bees are necessary in nature and are normally fine, but they can do more than ruin outdoor picnics or backyard lifestyle – they are bad if a nest is near the building and somebody is allergic to their sting. The social wasp is the kind that stings.  If you see a nest, it's better not to spray it yourself, you can make things worse.  They can be under eaves of buildings, sheds, or nearby trees. It's better to call an experienced wasp exterminator."
Q: The next problem pest in Greater Vancouver?
A: Bed bugs – though they are a problem all year, they tend to increase in summer as travelers may bring some back with them from other places unknowingly.  They are dangerous to your skin and health, especially those allergic to them. Once they increase, it requires a professional bed bug exterminator to deal with them – and not just any company.  When it comes to bed bug removal in Vancouver or Surrey, Avon Pest Control has had 18+ years to perfect the safest and most effective method to eradicate their presence so now we can actually guarantee 100% success of bed bug elimination. Many companies take short-cuts or don't know what they're doing and they have to come back, and some don't even have insurance or bonding.
Q: Which pest seems to be increasing the most in greater Vancouver?
A: "Bed bugs have increased 100-fold in the past 10 years.  In general pests increase as habitation does, especially in places with rapid urbanization like Surrey or Langley."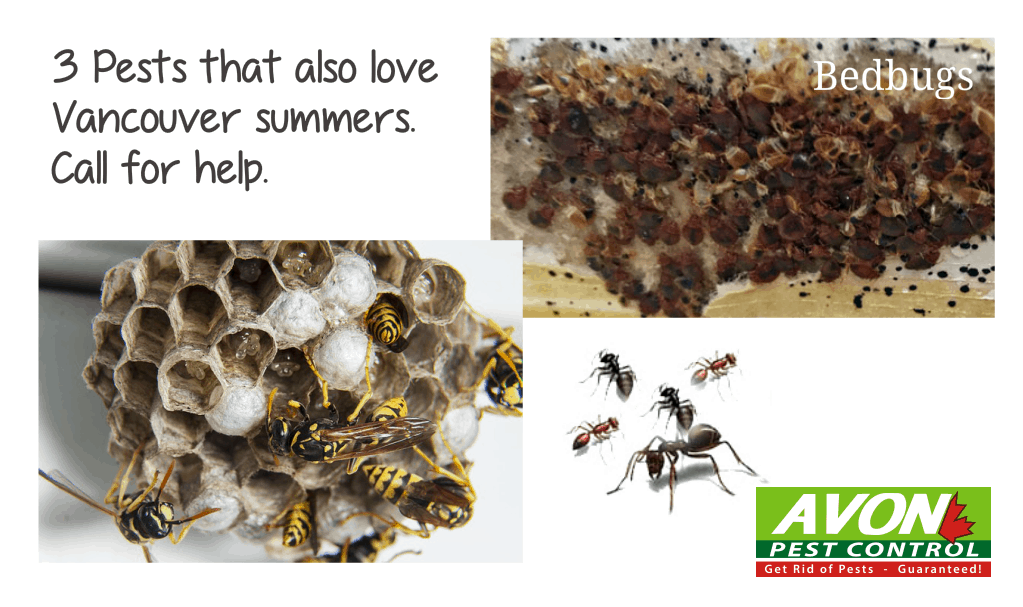 There's no need to tackle these pests yourself.  You can at least begin with a professional consultation over the phone to determine your next steps.  Just phone one of the numbers on this site, whether you need wasp nest removal, bed bug extermination, ant control, or any other pest control services in Surrey, Delta, White Rock, Langley, Richmond, or all metro Vancouver.