Common Questions about Ants in the House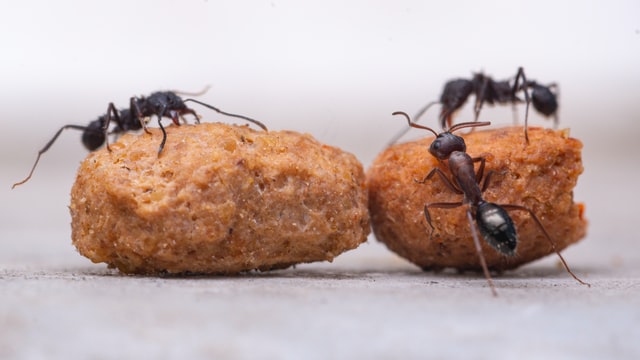 An ant invasion can be a real nightmare, they don't just arrive in a small group, but in hundreds and thousands! When it comes to ants in the house, most homeowners have plenty of questions. Let's take a look at some of the most common questions about ants in the house.
What kind of ants are in my house?
The type of ants that are in your house will largely depend on where you live. So let's consider the types of ants that live in Vancouver area. First up, there are carpenter ants; these can be brown, black or red and black. Carpenter ants are around 1.58 cm long, and they generally dig wood structures to make their nests. Next up, there are 'pavement ants'; these are about 3mm long and brown. These may infest your premises beneath the garage floor or underneath baseboards. Pharaoh ants are yellow and between 1-3mm long.These are usually found in places like curtain rods or beneath roof gravel.
Where do ants come into the house and live?
Ants can burrow into the walls of your home and live there. Or, the ant colony may be outside your home, and the ants just are coming in to get food. Kitchens and bathrooms are the main places where ants could hide their eggs and create nests. It may be that ants are living underneath the tiles in your kitchen or bathroom.
Why are ants in my bathroom?
Areas with lots of moisture can easily attract ants, which is why you may have found ants in your bathroom. It's not uncommon for carpenter ants to build a nest under a sink or bathroom tile. If you want to stop ants from infesting your bathroom, you should inspect your bathtub and toilet to ensure there are no leaks. Give your bathroom a deep clean regularly using disinfectant. Ensure that your products are secure, for example, shampoos and conditioners, with no residue spilling out.
Will ants crawl in my ears?
Ants usually come into the home to find food and warmth; you might see a trail of ants carrying crumbs away from your kitchen. Technically it's not impossible for an ant to crawl in your ear; however, it is rather unlikely. (Unless maybe if you left a piece of food inside your ear)! One thing you can do is avoid eating when you're in bed. If you do get an ant inside your ear, you should tilt your head and pour in some warm olive oil into your ear.
How to find where ants are coming from?
If you know where ants are coming from, it's easier to eliminate the source. Usually you'll see ants in your home but it won't be obvious at first where the colony or source is. To find out, you'll need to investigate. Search under your cabinets, dishwashers, sinks, refrigerators and stoves. Look at the cracks and behind the wallpaper. The nest will likely be in a well hidden place, so check in all the elusive areas, (and follow the trail of ants)!
How do I get rid of ants in my kitchen?
If the ant colony is outside your home, and the ants are just visiting to get food, you can get rid of them pretty quickly. Ensure that you put all food in properly sealed containers, and keep your kitchen clean and free debris. If the ants are living in your kitchen, they may be a little trickier to get rid of. When ants are living in your home, it's important to get a good pest control company to rid you of the infestation. At Avon Pest Control, we have many years of experience in dealing with all different types of pests. Our pest control solutions are both environmentally friendly and reasonably priced.
How do I stop ants from coming back?
Once pest control has taken care of your ants, you'll want to know how to stop them from coming back! It's a good idea to use caulk to seal any gaps in your windows, doors, tiles etc. Keep your home free of food debris, so you don't attract any more ants. However, there is one way that you can keep ants at bay using food. Blend lemon juice and orange peels together with warm water, then use a cloth to wipe the surfaces in your kitchen. (Ants don't like the scent of citrus). The toughest thing with ants is not knowing where the nest is and it can be tricky to find out on your own. At Avon Pest Control we can find the source of the ants fast, and help you to get them out of your life!  Call us for expert ant control services in Vancouver, Burnaby, Tri-Cities, Maple Ridge/Pitt Meadows, Langley, Surrey, Delta, Richmond, Tsawwassen,