An overview of bed bugs and how to get rid of them
Bed bugs are one among the most predominant pests you can ever come across. These pests are quite common in every household and yet quite dangerous as well for your family and your neighborhood. It is highly mandatory that you contact a professional pest control company for getting rid of these pests the moment you realize that your home is infested by these pests. Bed bugs are small oval shaped creatures that cannot fly. They can be up to 7mm in terms of length and are of light brown or orange brown in color. They mainly feed on blood of humans and other smaller animals. The problem is, you cannot identify that they have infested your home until the next day morning when their bites become clearly visible and predominantly itchy. The only reason why we cannot feel their bites while they are doing so is because of the factor that bed bugs saliva contains anesthetic properties and we simply cannot feel anything while they are biting us.
It takes approximately about 60 minutes for you to feel the bite and the impact to develop as a rash. However, it depends upon the individual and hence there are people who get to see the rashes developing only after couple of days. The bite of a bed bug is pretty much similar to that of a mosquito bite and the wound or rash is small, circular and red in color. However, more than a mosquito bites bed bugs bites are itchier and swells quicker. Even if you find the bites to be grouped or appear in lines, you can still conclude that your home is infested by bed bugs. Usually the bites appear in thin lines when the bugs stop feeding on you as you might have moved while sleeping. Avoid scratching by all means once you develop these rashes. That is primarily very important and mandatory to avoid getting infection.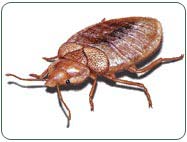 Prevention is always better than cure at any given time. See to that you wash your pillows and bed sheets in hot water every once in a while and regularly. Bed bugs and their eggs will simply perish as they cannot withstand high temperatures. However, see to that the fabrics you use can withstand these high temperatures while washing. They shouldn't shrink or undergo wear and tear. See to that you vacuum and clean your home regularly so that you don't give room for bed bugs to breed once again. Maintenance and hygiene is very important when it comes to safeguarding your home against pests such as bed bugs.
Above all you need an expert exterminator to handle your pest worries. These exterminators are highly equipped, skilled and knowledgeable when it comes to handling variety of pests. They know what is best for your home and your neighborhood. Not only do they get rid of pest infestation, they also make sure to fortify your home with necessary precautions and preventive measures so that your home isn't infested by the same pests once again. There are many companies out there providing pest control services. It is your duty and responsibility to identify the best and most experienced ones of the entire lot. Never compromise over quality services for cheap price and always opt for a company with background and experience in the industry.
Avon Pest Control Company is among the professional companies that are highly popular. For further details regarding bed bugs and other pests, log onto, avonpestcontrol.ca.