What to do If You Have a Wasp Infestation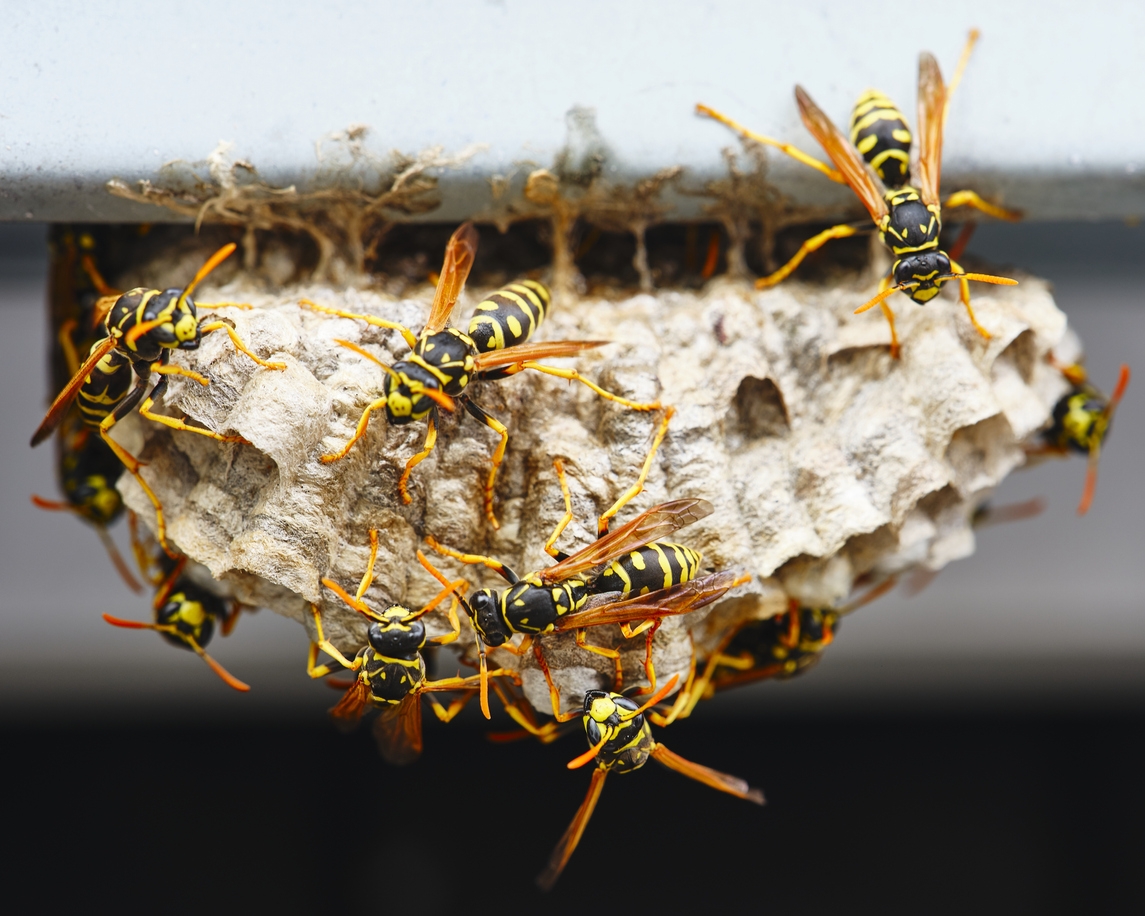 Unlike many other types of pests, wasps can be an even more harrowing problem to have. Not only can they enter your home and wreak havoc, but they can also sting you, which is particularly risky if you're allergic to them. In this article, we'll tell you how to identify and rid a wasp infestation at your home. Most importantly, let the experts help you eradicate them and contact your trusted wasp nest removal company as soon as possible.
Wasp nests & wasps in the house
Seeing a wasp nest outside of your home is one thing, but it's another to have the insects swarming inside. Typically, you can search the perimeter of your home and find their nest, often built in high corners of your roof, balcony, attic spaces or wall voids. Because they often build their nests in these snug corners, it's common for them to enter your home through cracks and crevices.
It's also important to differentiate between honeybee hives and wasp nests. According to Bob Vila, an expert in home advice, if it's a honeybee hive with telltale hexagons, it's important to leave it alone; these pollinators are an important yet critically endangered part of the food chain. A wasps' nest will be constructed from shavings of dead wood, often making it grey or light brown in color and with some swirls in its texture. If it is, in fact, a wasp nest, be very careful and never attempt to remove it on your own.
As summer quickly approaches, wasp's activity level and subsequent infestations are more common. If you see a wasp nest or notice stray wasps in your home, attempt to seal any potential entry points and call for wasp nest removal services.
Why are there wasps in my house?
There are a few reasons that wasps can be cozying up inside your home. First, they might be seeking shelter from the elements or harsh weather conditions. Wasps also go inside to:
Look for food
Search for more nesting grounds
Hibernate
Fly in on accident
Hitch-hiking versus Infestation
It's not uncommon for wasps to accidentally hitch a ride into your home when lugging in something from outside, such as outdoor cushions, toys, or gardening equipment. However, a stray wasp or two is nothing to worry about. However, if the outdoor nest that was built next to an open crack in your roof or window, for example, then the nesting might migrate indoors. As spring and summer are prime nesting seasons for wasps, now is the time to be proactive and cautious about looming wasp populations around your home.
Call the pros
Did you know that there are over 75,000 species of wasps? But, only some species are considered dangerous because of their venom stings. As we mentioned earlier, you should never try to get rid of a wasp nest by yourself, especially if you're allergic to them.
Apart from being allergic to them, trying to remove a nest (typically on a ladder) can anger them and cause a swarm that puts you in a dangerous position. Skip the chance of an allergic reaction or a fatal fall, and contact the wasp nest removal experts instead.
Don't let wasps bug you, contact us for wasp control and wasp nest removal in Vancouver, Burnaby, Coquitlam, Pitt Meadows, and Maple Ridge. Avon Pest Control has a team of wasp exterminators who serve Surrey, Delta, White Rock, Langley, and all of Metro Vancouver. Call us today at 604-805-0278 and get rid of wasps in your property – residential or commercial!